One of the directions of our work is a visa support for foreign citizens who wish to visit our country. Depending on the purpose of your visit, we offer several types of invitations, which will be issued a visa to a foreigner.
Tourist individual visa in the Russian Federation
This type of visa is right for you if you plan to short-term journey. Making an invitation from the host country takes no more than one day. We can send you the finished voucher by e-mail or fax.
Visa is issued in the country of permanent residence of the tourist.
When booking services company - an invitation is issued free of charge.
Without reservation -
Cost of individual tourist invitation
| | |
| --- | --- |
| For citizens of the EU / US citizens, Canada, Japan, Australia and other non-hazardous migration countries: | 23 EURO / US $ 25 |
| For foreign citizens of the migration-prone countries: Algeria, Angola, Bangladesh, Vietnam, India, Iraq, Iran, China, North Korea, Nepal, Nigeria, Pakistan, Syria, Somalia, Turkey, Sri Lanka, Ethiopia: | 57 EURO / US $ 60 |
Group visa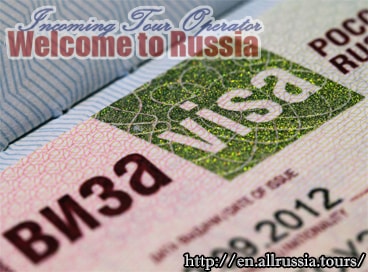 Only Chinese citizens in the framework of the Agreement on visa-free groups is possible to design a group visa (aka list, it is visa-free entry) registration lists Regulation does not imply or require any invitations. Group list is made on the basis of tourist data from the sending company in strict accordance with the passports.
And also: the full path to the accommodation facilities, Flight data, and most importantly - the data is sent to the company.
This service is only possible when ordering travel services.
Business visa for a foreigner
If your plans include a long trip or just want to have a one-year visa to Russia, you are optimally suitable for business visas. Our company prepares invitations for business visas for periods ranging from a month to a year.
Dates of registration, announced on our website is strictly maintained.
The cost of business visas in Russia
| | |
| --- | --- |
| Single enrty / 1 and 3 months (business), 21weekdays | $123 |
| Double entry / 1 and 3 months (business), 21weekdays | $131 |
| Multiple – entry / 6 months (business) | $200 |
| Multiple – entry / 12 months (business) | $277 |
Please note that the final price of the visa consists of several components:
The cost of the invitation. If you have an invitation, please contact the Consulate of the Russian Federation at the place of residence for a visa
The cost of delivery of the finished invitation (if original) to the recipient abroad.
The consular fee, which you have to pay when submitting documents to the Consulate. You may need to pay for insurance, if you do not.
For invitation, the following documents:
A copy of the alien's passport (first page with photo);
Copy of the last visa to Russia (if available);
Completed Questionnaire (reference sample)